Nutrition
Registered Dietician, Tami Rowh
I am passionate about diet free nutrition strategies. Primarily working in women's health, I love to break down the latest nutrition science into real life strategies for client success. I specialize in helping people to build a healthy relationship with their body and eliminate emotional eating habits, but also love teaching people how to calculate & use macros, balance blood sugar, and get off cholesterol meds. 
When I am not helping clients live better lives, I can be found on my yoga mat, hiking anyplace there's a mountain and spoiling my Shiba Inu dogs!
Services offered: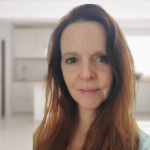 Medical Nutrition Therapy for chronic disease management
Weight Management
Perimenopause / menopause nutrition
GI issues, food allergies, intolerances
Wellness planning & health coaching
Yoga instruction
For your convenience, Tami sees patients right in our offices! Call to make an appointment.
You can learn more about Tami and her services on her website.